antmusic for sexpeople!
I'm always hesitant to join in when people start bashing boy bands and their obsessive followers; I think young male performers serve a very important role in the psychosexual development of teenaged women.
I mention this because I was just at Thread's, using the largest pair of scissors I have ever seen in my life that weren't ornamental to cut costume pieces for Undulation, and we were nattering on about this thing and that, and she admitted that AX had had some fun at her expense. Occasionally there's something she doesn't know that he or I do because we're so much more ancient than she; music that we grew up with, things that happened in politics or pop culture when we were old enough to notice and she was embryonic, and so on.
They'd been listening to Cake doing
Rock and Roll Lifestyle
, which she thought was a Cake song, and he told her that it was actually Adam Ant's. And she didn't know who Adam Ant was.
Didn't know who Adam Ant was. My god. What
are
they teaching youngsters in school these days? What kind of crap are they passing off as Punk History 101? Tell me it isn't all Sex Pistols and Black Flag, tell me that someone, somewhere, remembers that Adam and his Ants were influential on not only the development of punk music, but New Wave and beyond (one reviewer hears Ant influence in Franz Ferdinand's music). Go back and listen to
Dirk Wears White Socks
and you'll hear it: pure raggedy punk goodness in tracks like "Physical (You're So)" and "Never Trust a Man With Egg on His Face".
But I wasn't there for the Dirk days. I came in around Friend or Foe, after Malcolm McLaren had poached Adam's band to form
Bow Wow Wow
and Adam had rebounded by joining forces with Marco Pirroni and two drummers pounding out infectious Burundi-influenced beats. They were at the forefront of the "New Romantics" craze, dressing up as an amalgamation of pirates and American Indians and producing silly-but-driving songs like "Goody Two Shoes". They dropped the BDSM imagery in favor of ruffles and eyeliner (another reason I think Thread should know their ouevre); Adam sang the panty-melting "Friend or Foe" in a video on
Friday Night Videos
one fateful night that I had the VCR running, and that was it for me. I was a latchkey kid, which meant I had an hour or so a day to jump around in front of the television in my parent's room to that video.
And then it was the white stripe across my nose for special occasions (and on my student ID). And the little ribbons in my hair. And every single T-shirt, B-side, magazine photo, poster, "Property of Adam" stickers (those from Mom), and, well...
I
know
I said I wasn't going to talk about masturbation, but it's kind of hard to talk about Adam Ant without mentioning it...so...may I present the object of many a silently feverish evening back in the mid-80's? Back when I thought that thinking hard enough about a man might make him sense your presence somehow, and long for you without knowing it was you for whom he longed?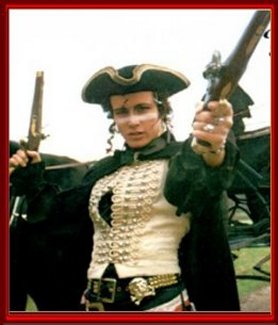 One year for my birthday, my folks sent me to spend a weekend in New York with our friend Marjorie, who took me to see Adam play at Radio City Music Hall. By the time he came on stage I was completely hyperventilating. I couldn't look at him at first. I had to look at the shadow he was casting against the back wall.
That's Adam's shadow
, I told myself.
In a moment, I will be able to follow it up to him.
And when I did, oh lord, he wasn't wearing a shirt.
Of course, that kind of passion couldn't last. He started dating
Vanity
of
Vanity 6
and I realized that he probably wasn't going to wait for me to grow up so
I
could be his nasty girl. And his music started to suffer--don't even start with me about
Strip
; I know it sucked, and sucked hard. I started fixating on Peter Gabriel, who sang about things that
meant
something, even if I didn't know what that something was.
I moved on. I graduated and went on to college, Adam made some forgettable albums and a bunch of movies. I forgot the names of every musician who'd ever been an Ant, had actual sex with real boys, stopped dreaming about the dandy highwayman who was going to make me
stand and deliver
.
And then Thread made an innocent comment, and it all came back. So I went and looked him up and discovered, to my complete shock, that he turned fifty last year.
This is embarrassing. How did I miss my first lover's fiftieth birthday? I'm reasonably certain that Adam hasn't noticed that I didn't so much as send a Blue Mountain eCard, but surely he must have felt
some
lack...I almost can't see him in this picture:
If you're out there, Adam, happy birthday. Sorry I missed it in November. Perhaps tonight, for old time's sake, I will send you the old tribute.
and even though you fool your souls
your conscience will be mine
all mine

We're the dandy highwaymen so tired of excuses
of deep meaning philosophies where only showbiz loses
we're the dandy highwaymen and here's our invitation
throw your safety overboard and join our insect nation
__________________________________________________________________________
Incidentally, AX was wrong.
Rock and Roll Lifestyle
is in fact
original to Cake
.